We were very blessed this year to have a friend at the A's Mike help us get the great seats we did during our trek. Mom has known Mike since she was little and the block played all those great games together - football, kick the can and more. The A's are in Oakland and just recently the Baseball Commissioners denied the sale of the A's to new owners - but that is a long story!!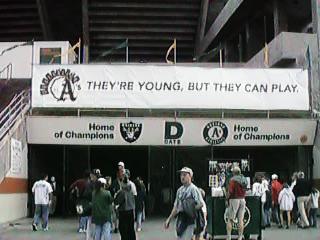 The A's had an amazing season for a small payroll. They finished 87 and 75 for the season. They almost made the wildcard playoffs and the Management was rated the best Organization two years in a row. Funny thing though the fans don't come. They are an exciting team.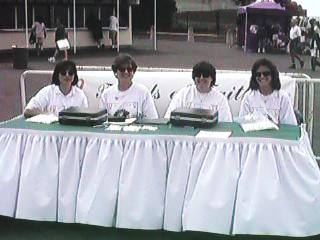 The day we went was Breast Cancer Awareness. Mike's wife Kathy organized the day. She is the last one on the right.
Here is the Roemer crew inside the A's stadium. We played Kansas City that day and won 12-3. Giambi had a great day and so did Tejada. He was hit by a pitch and the next at bat hit a homerun. It was a three hit day and three RBI's.
Ben Grieve has a rough day but we got to see his major league debut against the Giants a year and a half before when I think he got 3 hits. We saw his picture at Cooperstown for last years Rookie of the Year. It was warm and we wore shorts.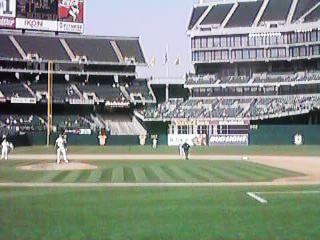 The huge structure on the right is called Mount Davis after Al Davis. Oakland tried so hard to get the Raiders back they agreed to build this huge structure in center field. It was suppose to be money making venture and no risk but last year Oakland lost over 10 million in the deal.
.