The Giants ended their season at Candlestick Point. Not a great season but there were some exciting moments.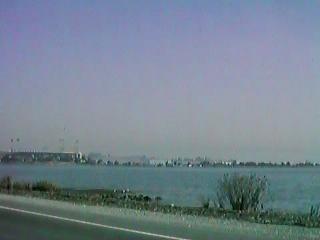 The approach on 101 to Candlestick Point. The San Francisco Bay is all around it and so is lots of wind.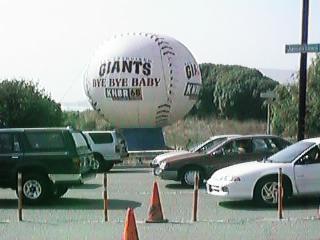 KNBR - The Sports Leader said goodbye to the fans at the last game.
This year we had some shorts weather days but this was our typical gear - sweatshirts and then layer!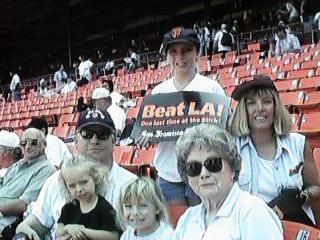 Our last Giants game had gorgeous weather and lots of fanfare against our old rival the Los Angeles Dodgers. Patrick and Will were off trying to catch ball from batting practice for this picture.
As the national anthem sounded there were 3 navy jets which flew overhead and gave us a final sendoff. Unfortunately the Dirty Dodgers beat us.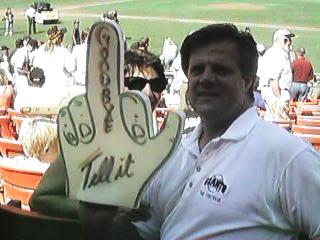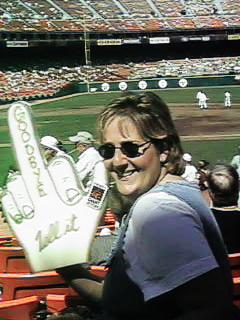 Larry and Bobbie are our neighbors behind us. He designed this final sendoff of his own.
Lori to the right is another Giant faithful behind us.
After the game, one by one former Giant greats were called out onto the field and their name was plastered onto the big screen for one last time. Then they went out to their defensive positions in the field.
Dave Dravecky got the biggest ovation - he played, left to fight cancer in his shoulder and then came back to pitch here again. He later lost his arm but is very inspirational to every Giant fan.
Willy Mays was the last player called and he got a big ovation. By this point the field was full. There was definitely a Field of Dreams feeling.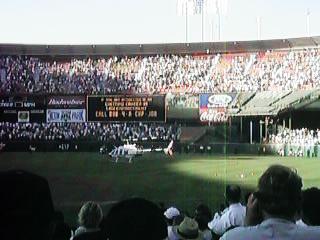 All the players came in and Willy Mays threw one last pitch to Barry Bonds and a fan.
Next they dug up home plate. A helicopter landed in the stadium and carried home plate to the new Pacific Bell park. There the teams owner placed home plate in its new home. Then it was broadcast back to Candlestick.
We loaded up right before and headed out. We even pulled the kids out of school early for this one. Many years from now when somebody says remember that last game and they will!