Chicago is our last family and baseball stop. This is also the first stop we saw Phil's relatives. We learned some interesting things. As one cousin told us: Chicago has two seasons Winter and Road Work. We saw a lot of the road work season!
Chicago Gas Price $ 1.32 /gal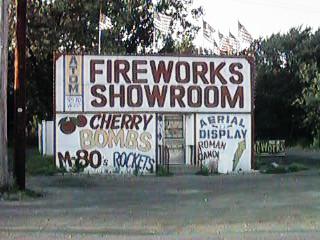 Phil was disappointed this one got away! Indiana had lots of fireworks stores. Mom did find some outlets to shop at in Michigan City ( 2.5 hour birthday bonanza! ) right below the Wisconsin border.
We headed into Chicago during rush hour on Friday night: bad idea. Two lanes of the freeway are closed for roadwork. Mom says, "Lets get off and take surface streets." We travel about 2 miles and the sign says detour - bridge out ahead. The detour takes us under the freeway (now moving) but we can't get on!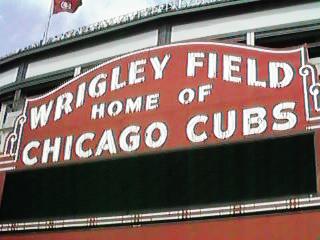 Saturday it was the hunt for Wrigley Field. Our campground was far away. We headed in to catch the subway through a couple of construction zones. The first couple of stops Phil said "I won't leave the RV there". We found a couple of policeman working a street faire. They were very helpful and sent us to a Fire Station in Chinatown.

The fireman offered to let us park there except we would block the fire doors. He was cool he had 5 kids too. We ended up in the downtown and by grace parked in a great location. We went to the subway stop nearby - closed on weekends. Next one - under construction. We finally get on a subway and we're on our way. One stop away and we stop. The train in front of us is broken - please wait the conductor says. After about 15 minutes we're on our way and at Wrigley Field!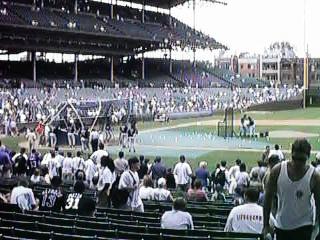 BP at Wrigley Field. The Cubs are playing the NY Mets. It's hard to see but those buildings behind left field actually have bleachers on their roof. Several buildings do around here.
Game time temperature: 87 degrees (3 PM)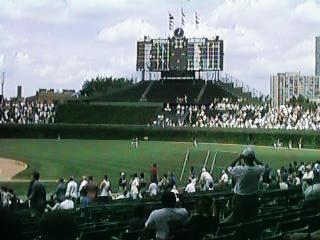 The scoreboard in centerfield is mostly manual. The scores are manually fed in and only the strikes, ball and outs are digital. The active game have inning by inning stats - all done manually.
The final score Cubs 17 Mets 10. It was an incredible game. Here is Sammy Sosa up to bat with one of his two home runs - # 39 & #40. Jose Ventura had a single, a double and two home runs for the Mets.
Early in the game the Mets pitcher walked 5 batters (2 of them in for runs) and then Gary Gaetti came up to bat and hit a grand slam!
The fans are very enthusiastic. Outside the ballpark there is a lot of excitement and virtually no parking.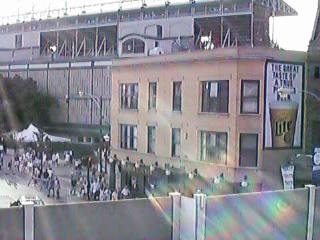 Goodbye Wrigley Field - the view from the CTA train.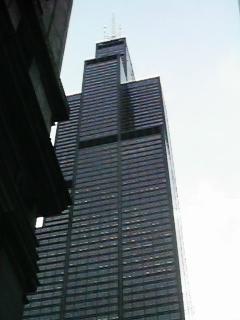 We didn't get to do a lot of sightseeing. After the game we did go to the Sears Tower. Here is the view of some of the 110 stories or 1454 feet.
This tour is very organized and a great deal for your buck. We didn't wait very long in line although they did have the Disney ropes for bigger crowds. While you wait there is a short 10 minute film about the architecture but also a great little tour of the city and a lot of the highlights. They even take your picture and will sell you a copy when you come down.
Here is the view to the east side overlooking Grant Park, Lake Michigan and the Shedd Aquarium. If you look close you can even spot the RV. It is one of those white dots - can you tell??
Cows on Parade! From June 19th until mid October 300 fiberglass cows are on display through the downtown in various styles. Early Chicago grew as farms shipped in their cows to the meat markets and other goods and then they were shipped all over by train and sea. Very colorful and creative.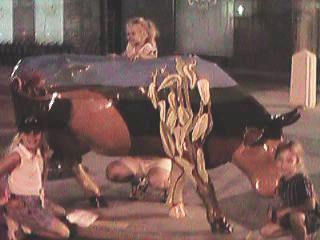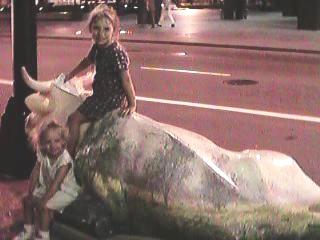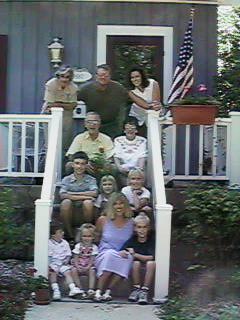 On Sunday we visited with Ann & Phil's relatives. First we visited Ann's Mom's sister Jerry. Here we are at Cindy's house after a great visit. Aunt Gerry & Uncle Jimmy have 4 girls: Gaylynn, Renee, Cindy & Chrissy. Two were in town.
Top: Gaylynn & her husband Bruce, Cindy
Next: Uncle Jimmy & Aunt Jerry
Next: Roemers
Bottom Step: Andrew (Cindy's youngest) & more Roemers
Andrew is 11 months younger than Colleen but they make a great couple of cousins!
We had brunch and then headed for Cindy's to reminisce.
The kids were glad to see toys and a swing set. The parents had fun visiting in her turn of the century house.
Then we were off to Phil's cousins for dinner. Unfortunately we were having so much fun we forgot to take the picture until it got to dark.
Our Uncle John called them the Chicago Gang. The parenthesis indicate the family relative.
Top: Guy(Jane), Phil, Chuck
Next: Jane, (Madeline's husband), Tina (Chuck)
Mike(Monica), Stan (Patty), Pat
Next:Jenny (Louise), John, (John's wife),
Madeline & Isabella, Patty, Monica & Nic,Patrick
Bottom: Ann, Colleen, Elizabeth(Madeline)
Michaela(Monica),Julie(Patty), Michelle, Katie(Patty), Louise & Paul (Jim is in California!), Will (Chris is hiding next to Will)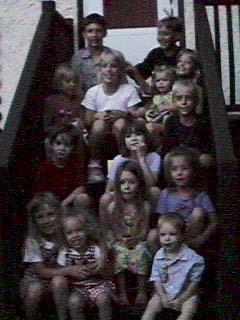 We rounded up just the kids in the back of Patty and Stan's turn of the century house. The bigger kids played some baseball and there was also a great treehouse here.
Top: Patrick & Chris
Next: Julie, Michelle, Isabella & Katie
Next: Paul, Jenny, Will
Bottom: Madeline, Colleen, Elizabeth, Nic & Michaela
Elizabeth is actually named Ergetacz the Hungarian word for Elizabeth but I'm not sure how to spell it so I subsitutued!