It's our last night in Florida and Will's 8th Birthday. Mom enjoys every minute with her cousins and hates to leave! The first night in Florida we spent in Marion near Tallahassee. It was next to a Lake with paddleboats and the worst putt putt course you have never seen. There was a great electric storm that night and the kids were very excited to see all the lightening. (New for us Californians!)
Then we reached Jacksonville. Our cousins Ping and Mary fed and entertained us with stories for 3 days. It was wonderful. Thursday we went to Saint Augustine and toured the old Spanish Fort and saw the sight of the first Mass in the United States. It is a very picturesque town.
Friday we played in the Atlantic Ocean at Jacksonville Beach. This was a big hit. Then we celebrated Will's birthday with KFC, cake, ice cream and fireworks. Fireworks are legal here!
Jacksonville Gas Price Update: $ 1.17 /gallon
This Fort was settled in
the mid 1500's in the oldest
standing masonry fort in
the US.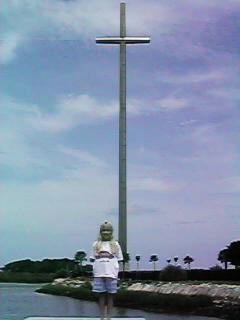 This cross is in Saint Augustine and is near the site of the
first Mass said in the United States and the first Marian shrine.

Do you know how long it takes to sunscreen 5 kids??
Here is the birthday boy getting his sunscreen.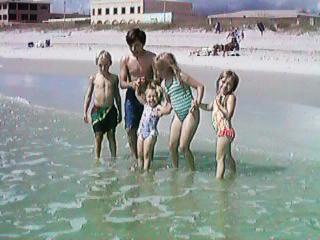 We arrived at the beach at 10 AM and it was raining. Great thing about Florida, in 20 minutes the sun came out and it was beautiful. The Atlantic Ocean was warm too! After awhile Madeline and Patrick left the water to collect shells and veg. Will loves water and he and Michelle tried to catch the waves. Colleen is a daredevil and had no fear.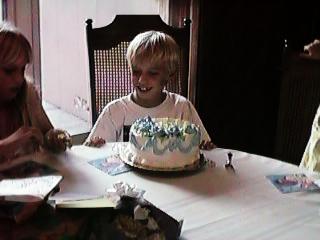 Will loves his birthdays!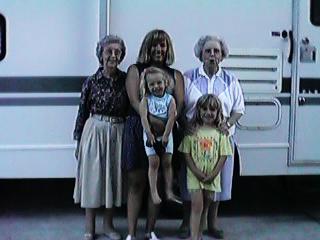 Here are our cousins Mary & Ping. We always enjoy visiting with them.