Northern Ohio is full of rolling hills and Cleveland sits on one of the Great Lakes - Erie. The downtown near Lake Erie is called the Gateway and full of architectural delights. There is the US Submarine for exploring, The Rock in Roll Hall of Fame, The Great Lakes Science Center (the Tech of the East) and the soon to be occupied Browns Stadium. The skyline is full of busy tall buildings as you head to Jacobs Field. Jacobs sits in the middle of tall buildings just like Camden Yards. Unfortunately Mom didn't know how to set the camera right and the pictures are a little out of hue - score one for the machines. By game time we straightened her out!!
Then the next day we spent with Mom's Aunt Martha and family. Our Grandmother Scott grew up in Kent, Ohio nearby. Lots of kids and fun! Aunt Martha has 5 girls: Julie, Lori, Michelle, Barbie and Cherie.
Ohio Gas Price: $ 1.18 /gallon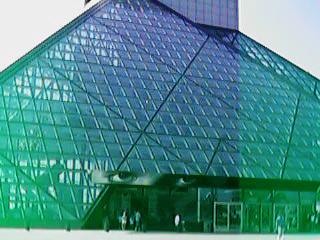 This is the outside of the Rock in Roll Hall of Fame. We went inside and they told us to check all cameras at the coat check. They said there personal items that they did not want photographed.
We boycotted since we could not bring the true photographs to the web! (Actually Phil was tired and we only had a little bit of time so the kids voted for the Great Lakes Science Center.)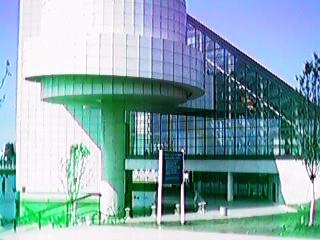 This is the side view of the Rock and Roll Hall of Fame. Very cool and dramatic building. Cars hang from the ceiling - that is the orange dot you see in the northeast glass of the building.
The Great Lakes Science Center is so cool. It is about 50% BIGGER than The Tech. It also has an IMAX dome theatre. The GLSC opened in July 1996.
The specs in the front right are Roemer children.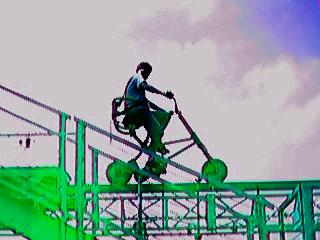 One of the most interesting things about the GLSC is that they had almost no overlap to The Tech museum. If you put the two together you would have an incredible collection of hands on exhibits for kids.
Outside was a collection of experiments on balance. Here is Patrick riding a bike on a thin rail way up high balanced by a weight below.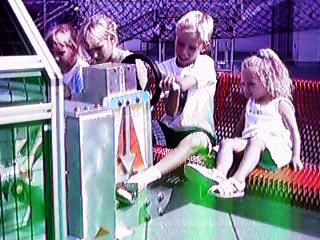 Here is Will driving a big Fulcrum lever. You try to find the balance (Will did it - the arrow is level!) just like a balance scale.
Inside they also had a great section on transportation, sports, sound, a shadow room and so much more.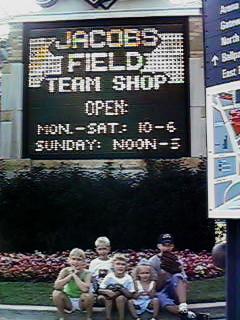 A view from
top and bottom of the Jacobs Field entrance.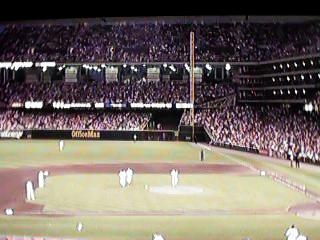 It's game time and it must be hot! The Cleveland Indians are playing the Detroit Tigers and at 7:05 it is still over 90 degrees.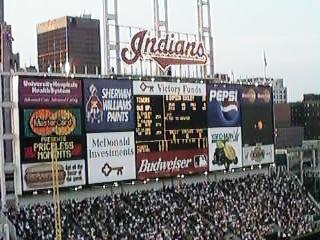 Manny Ramirez was hot tonight! He had a great hit into the corner of right field and then a homerun followed by a back to back homer by Jim Thome. My Aunt Martha says he leads both leagues in RBI's.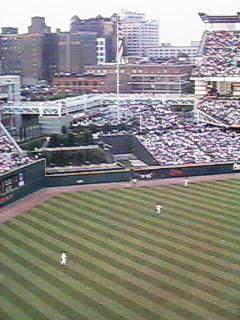 Center field wall. Our seats were split - some behind home and some in right field. This ballpark also has a Sliderpark for kids. Dad checked this area out with Madeline and Colleen. There are a bunch of Little Tikes climbing toys like a two story fort and all designed for the 6 and under ages.
Madeline's review was, "It's a blast!"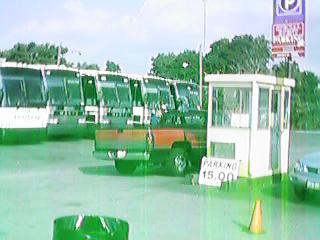 Parking for Buses and RVs. The sign said Special Event Parking for $30 but our guy collected $40. Hmmm...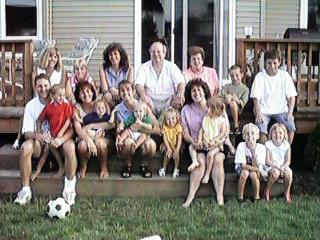 This felt just like our family gatherings - lots of kids and fun! We played lots of ball and frisbie. In Ohio there are no fences between backyards. The yards are big so its just like having a big park behind you!
Back row is: Ann, Michelle, Michelle Storti, Uncle John & Aunt Martha, Colin (Barbie & Jim's oldest 5), Patrick
Bottom: Jim, Kyle(3), Barbie, Jimmy(1), Cherie who is getting married in October, Ryan (Jimmie's twin), Colleen, Lori with her daughter Nicole, Will and Madeline.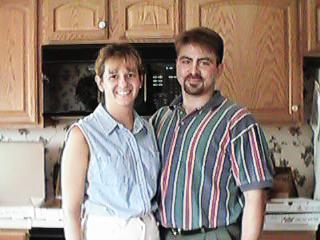 Here is the lovely couple posing in Barbie's kitchen. Cherie and Billy - best wishes!!!
Before this we visited Barbie's house, we saw Aunt Martha's and Uncle John's new home. It is really pretty and backs up to a lake with fishing and a forest. The basement is huge. Barbie had one too - I think Californians are missing out on this idea!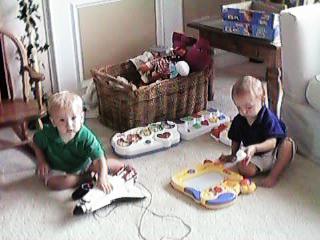 Ryan to the left and Jimmy on the right!!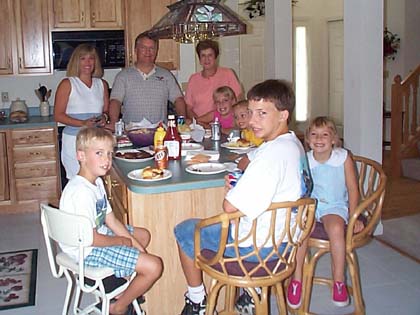 Hot from the presses - this new footage sent over the wires from Uncle John.
Here are the Roemers enjoying lunch with Aunt Martha at her house.