We headed out of the Black Hills through Wyoming and into Montana. Along the way the terrain changes greatly. You go through plains that seem almost like a high desert. Then there are hills and then there are high deserts again. It is hard to imagine the plains area here and in South Dakota being -20 degrees! In Gillette, Wyoming they have signs that read "If lights are flashing, return to Gillette." Then there are railroad crossing arms that can come down and close the freeway.
Our big stop today is the site of the famous Battle of Little Bighorn near the Little Bighorn river. Patrick is our guide. Grandpa Roemer gave him a book called Son of the Morning Star which is the white man's view of the cavalry. It has some very gruesome and graphic details of how life was in the cavalry when there was no battles. Very harsh consequences for little crimes and the suicide rate was 1 in 12. Then we found the book Custer's Fall - The Native American Side of the Story. Patrick read both.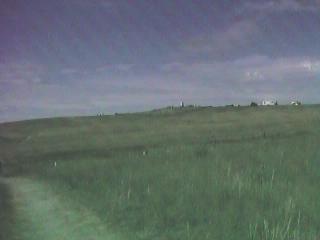 There is a path downhill from the battle. The ridge at the top is where Custer's men came down to surprise the Indians. This is the view the Sioux and Cheyenne would have had.
The Indians had just fought Cooke and were not looking for a fight. There were 7000 Indians living in this valley and they had planned to move the day of the battle in search of more food. Among the camp was Custer's son. This is because one women had been taken from another camp and Custer had a son with her and they had joined with the Sioux/Cheyenne camp.
There were nearly two thousand Indian braves and Custer thought there were only hundreds. Custer was shot at the beginning of the battle and his men stopped to carry him up the hill. Historians believe they would have fared better because that gave the Indians time to respond.
In both pictures there are white markers strewn across the countryside. On the back of the ridge there are more. The cavalry set up the markers where soldiers had died. 210 cavalry died in the battle. 32 Indians died.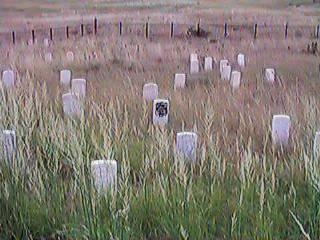 Here is where many of the soldiers died. The black headstone is General Custer's. The men are actually buried in a mass grave at the top of this hill under a monument. General Custer is buried at West Point.
Here is our campground in Billings, Montana. Another first in history!
This one is on the Yellowstone River and has a pool, playground, bikes to rent and a putt putt course.