Our last leg before California is under way. We crossed into Utah and headed for Ogden outside of Salt Lake City. We stayed at Cherry Hill. Cherry Hill was a cherry farm that the family turned into a RV park. It is still family run and has great family activities.
Idaho Gas Price: $ 1.37 /gallon
Today we left there and headed into Nevada. We had a long drive so we didn't go into Salt Lake City but just visited Salt Lake. An few hours after we left the tornado touched down in the center of Salt Lake City. Nature's power strikes again, we're glad we left early.
Eastern Nevada Gas Price: $ 1.38 /gallon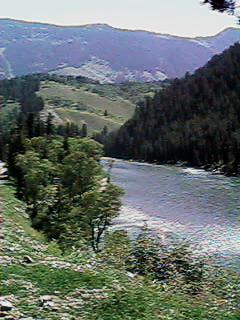 This is the snake river canyon between Wyoming and Idaho. Our campground runs rafting trips down this 48 degree river. Burrr! It is very scenic.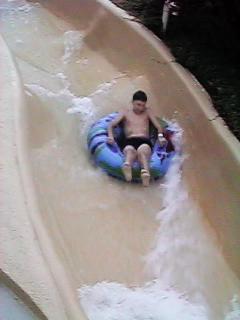 Cherry Hill had this river rapids for the kids. Here is Patrick shooting down the rapid. It was a little overcast but we didn't mind. Patrick and Will went down until almost 9 PM.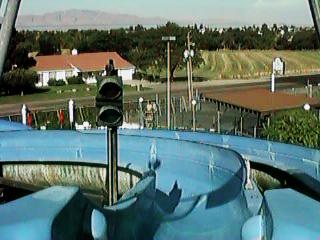 After awhile Michelle and Mom moved to the Waterslides. That is Salt Lake in the background. The sunset was beautiful from here.
Madeline stayed in the Pirates Cove and tested out the little rapids and dumping buckets. She did not want to leave.
The park also had a great miniature golf course, snack bars and a pie pantry.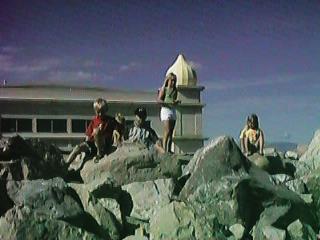 This is the kids by the great Salt Lake at a site called Salt Air. The castle like building on the edge of the lake opened in 1924.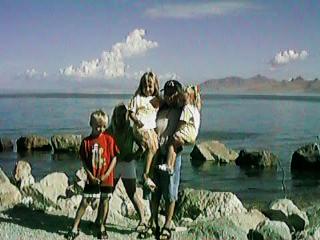 The crew in front of the lake. We didn't get to test out the floating properties of the lake though!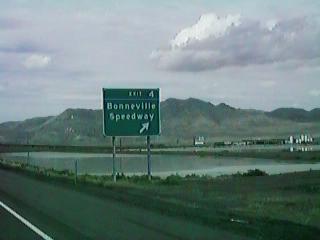 Phil took the RV out to try some speed runs on the salt flats. All previous speed records were very safe.
Off to Tahoe tomorrow. More family pictures from there soon!!