Welcome Back! We have been on the road through Maryland, Delaware and into New Jersey. The most exciting event on this trek was being stopped by a Maryland Police. They said we were trying to sneak propane into the Tunnel by Annapolis. Those rebels Californians! We got off with a warning and were sent on our way via another route. Afterwards our windshield was cracked by a rock. First main causality - score that another one for nature.
We landed in New Jersey at the home of Dale, Gertrude and Morgan Pfost. Dale was Phil's best man and also his partner in crime for many of their escapades in High School and after. We have had the greatest time visiting and playing. More pictures coming from New Jersey and Philadelphia.
We went to Yankee Stadium on Saturday and then explored New York City. Unfortunately some of the pictures did not come out but I will fill in with words! Somebody hit the macro button and the pictures got blurry. We are experiencing technical difficulty... Gas Price New Jersey: $1.14 /GAL
Here is the Pfost Gator. It is a great vehicle for getting around the area. Morgan is a seasoned driver with an adult guide. We have driven behind the Pfost house into an open space corn field and equestrian center. This is a hit with all.
At night we listened to the cornfield by the stars.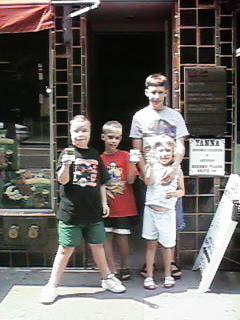 We traveled to nearby Princeton to explore. Here are Morgan, Will, Patrick and Madeline in front of the Knight Dreams store with their Pokeman cards! Success!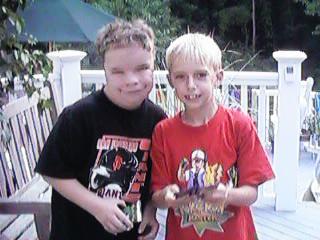 Morgan and Will in the heat of a great Pokeman card exchange.
All of us went to Yankee Stadium to see the NY Yankees play the Atlanta Braves. We route for anyone who plays the Braves! It is fun to learn the AL roster better and see them in action!




Once again it is 100 degrees or more at game time.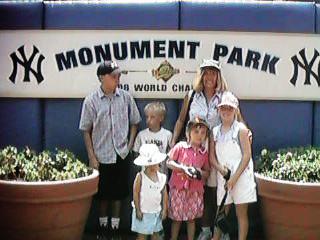 We get in the stadium about 1 1/2 hours before game time and head to Monument Park. We follow the signs and reach the famous Park behind center field. The usher pulls the gate and says that Monument Park is closed.
Mom looks at her and says but we're from California and this is are only time at Yankee Stadium. She says talk to her supervisor. Mom holds her ground. She ushers us in!! Very friendly!! Jackpot.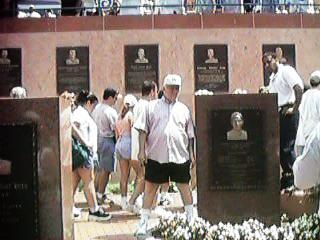 Monument Park has the retired numbers and then a bronze plaque to each great Yankee Player. We are dying in the heat at this point but we trudge on - diehard baseball fans to see this famous spot.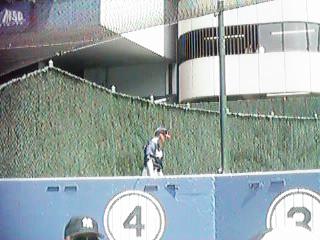 This is to our cousins Brian and Danny. This is the closest we got to a Brave - Glavine warming up in the bullpen. You misguided baseball fans you!
Great main box seats right behind home plate! Here are Dale, Phil, Michelle and Madeline routing on the Yankees - when in New York do as the New Yorkers do!
Gertrude and Morgan joined us too. Sprinkled around the crowd were Braves fans. The Yankee fans were more enthusiastic.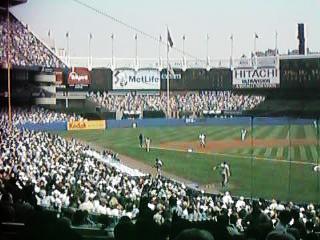 The Yankees beat the Braves that day! They did have some fun traditions. In the sixth inning when the groundscrew drags the field, YMCA is played. The groundscrew dance in choreographed moves to the YMCA part and the crowd goes wild.
They also boo the umpires as they are announced.
We headed off for Manhattan. We came in past Central Park, the museums and some great theatres. We stayed two nights in a hotel just off 5th Avenue and 44th Street - close to Times Square. We ate a great Italian dinner and walked to Times Square. Here we are near where the ball drops. The kids were very excited to see the place where we usually ring in the New Year with Paul, Sue and their cousins, Barbara, Dave,Brian and Megan via TV.
Then Mom and part of the crew went shopping. It's almost 10 PM and the street is full of people. The stores are open and the city is very much alive.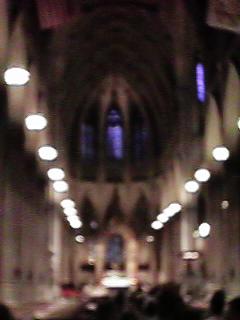 Sorry for the blur. This is Saint Patrick's Cathedral on Fifth Avenue. It is very famous for it's size and the events it has hosted such as JFK and Jackie's wedding. It is very beautiful and has several side altars like the European Cathedrals.
The night before we had heard of JFK Jr., Carolyn and Lauren's disappearance. It was eerie to be in New York now. JFK and Carolyn lived in Lower Manhattan. We attended Mass at Saint Patrick's and the TV crews did too. They even took some pictures of Madeline, Colleen and Michelle and a news reporter interviewed us - pad in hand. It seemed odd to have reporters there in a holy place. An incredible tragedy for all touched by it.
After this we headed up Fifth Avenue and went to FAO Schwartz. Now that's a toy store! Full of incredible displays, Raggedy Ann actress, magic tricks and lots of toys. It gets so crowded here sometimes that there is a line to get in. Then we headed for a bus tour of Lower Manhattan. We were accosted by two tour guides vying for our business. We took the Blue Double Decker.
This was a mistake. They were a little less descriptive on the tour. We did see the lay of the land though - Little Italy, Greenwich Village, Wall Street, Battery Park, United Nations Building, Garment District and the Twin Towers. It was so hot that day. Colleen fell asleep on Patrick - the best way to go! We headed back to the hotel for recharging - except Mom and Michelle who headed back up Fifth Avenue for Shopping!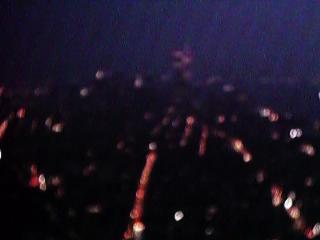 After dinner to the Empire State Bldg. Do not attempt to fix your dial - no it's not time lapsed photography - just our camera! It really is a great view though - you'll just have to trust us!
Don't attempt to go at dusk on a summer evening. They hoard you in like sardines and boy are hot sardines smelly! They must have taken lessons from Disneyland because the line snakes around and around until you get munched in an elevator.
A view at the top and then we had to wait another half an hour to get down in hot lines.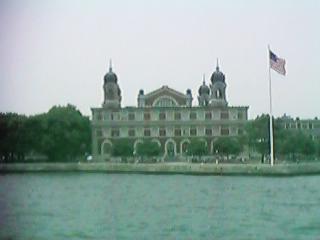 On Monday we packed up and headed out of Manhattan for the trip to Liberty Island from the New Jersey side.
The park is the site of the old Central Railroad for Jersey. It was the sight of a lot of bustle until 1967 when it closed. The station is being renovated and is huge. At least 12 long trains would fit for loading at a time. The destinations are still listed.

We just missed the first ferry by minutes. 45 minutes later we are aboard. Here is Ellis Island from the Ferry.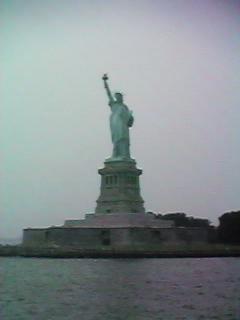 Here is the Statue of Liberty. We got off and headed across the island for the statue. More lines. These flowed well. The crown was closed. It is open to only the first two tours of the day during the summer because of the intense heat on the steps up.
We climbed 196 steps to the top of the base.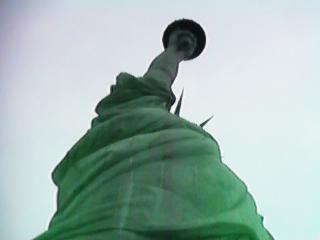 Underneath her flame we hiked. Patrick boosted Colleen up. Mom carried her down.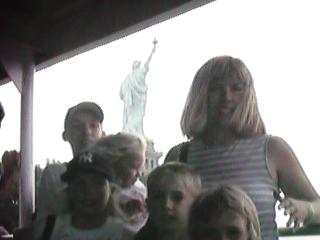 As we headed for the boat, they were closing the doors. Phil ran with Colleen. This time they let us on. We barely climbed on board and it started pouring down rain! Phew.
The ride back to the Pfost was full of lots of rain and thunder and lightening. All Roemers present and accounted for.