We're off to capture the falls! We drove through Central New York passed lots of small farm towns. The towns had great old houses and small main streets with stores. In the town of Niagara Falls a handicapped van with its ramp down. The ramp extended halfway into the next lane. Phil saw it pull into traffic and only had time to pull off the road before it hit a car and spun it off the road. The van had people in it but luckily no one got hurt. Score one for the humans, if it had hit us it would have been a lot worse. Shaky entry into the falls. See below for the breathtaking falls. New York gas price $1.23 /gal
This is a typical scene from the highway with lupines. Madeline yells," This place is really gorgeous."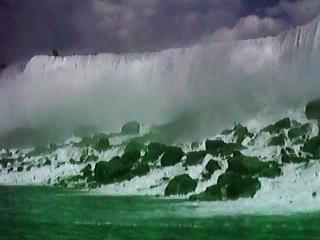 Here is a view of Bridal Veil falls from the boat Maid of the Mist. They issued blue rain ponchos to all because extremely close to the falls.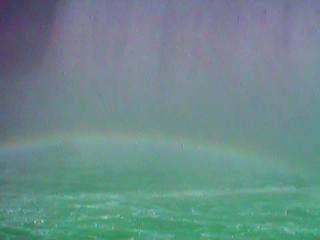 This is a huge waterfall in the shape of a horseshoe. The water on both falls goes 22 miles per hour! The boat stopped just about right under Horseshoe Falls for the true feel of the mist.
Here is a view from the top! Bridal Veil that is and the mist in the back right is Horseshoe. There is actually an island between called Goat Island.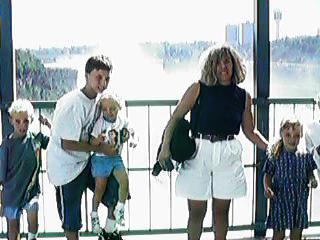 Roemers at the New York Observation deck. This close you can feel the mist. It is amazing - land to the left and land to the right (buildings behind are actually Canada). Water and erosion have made this gully and a 48 meter drop.
We have a regular routine when we drive into the gas station. Patrick turns off the flames and the kids pile out wash windows etc..
This one is at 11PM - you guessed it - we're on another pharmacy run. We left Phil at emergency and Mom and kids saw the falls at night. It was beautiful site because they light it up with one color and then about 10 minutes later they change the color. Lights on Canada side - picture in two countries. Unfortunately the camera doesn't work at night so you'll just have to trust us! Verdict: Phil probably has strep or some infection.