During our stay in New Jersey, and Pennsylvania we have stayed with the Pfosts. We have been spoiled by sleeping in beds and home cooked meals for 5 days! It was fun catching up with the group and enjoying their roomy well decorated home. Patrick and Will spent a lot of time trading Pokeman cards and playing computer games with Morgan! A good time was had by all. Especially when Dale and Gertrude babysat all the kids and Phil and Ann had a date at Diamonds. Diamonds is a great Italian restaurant in Trenton. The last night we used some of those good old South of the Border fireworks to celebrate. Dale and Phil felt like kids again - only this time Dale's stogie lit the fireworks off!
We were able to visit the Philadelphia and our relatives outside of Philly. We were bummed that time ran out before we got to the Shea's or Immaculata College! Next time ...
We went downtown to Independence Mall. Parking was easy and we strolled through the historic district. The Liberty Bell was there in full glory. The big crack is actually the repair in the bell. It rang a lot to celebrate various milestones and rang for the last time on George Washington's birthday after 93 years of service.
Here is the famous Independence Hall where the Declaration of Independence and the Constitution were signed. Our tour guide was great - she reminded us a lot of Sister Mary. She could have been a relative. We were all attentive students!
From here we went to Ben Franklin's tenant houses and his museum on Franklin Square. This was really well done. The tenant house were down to the inside walls so you could see how the architecture was designed by Franklin with all the archaeological diggings.
The museum had a great film on Franklin's life and spirit. Then the museum was underground and well done. Great history!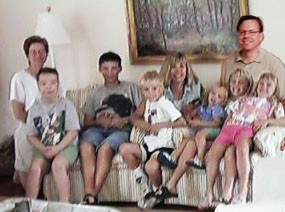 Here are our great hosts. Phil melded in one of the bodies. See if you can guess which one it is????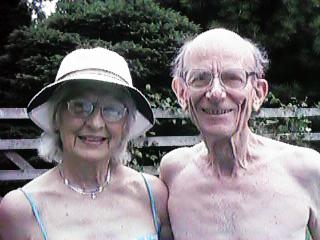 One day we went to visit Ann's Dad's first cousins outside of Philadelphia. Here are Chara and John. They raised five kids and as you can see they still have quite a twinkle in their eyes!
They barbecued us up hamburgers and hot dogs while we enjoyed their pool. It was so fun visiting. Ann's Dad spend summers as a child with John and their siblings. We got to see some great pictures and hear great stories. It was a very pleasant afternoon.
Here are the Roemer's in their pool. It felt great. Unfortunately there is a drought hitting a lot of the East Coast. People living in Philadelphia are not allowed to water their lawns, wash cars or top off their pools. That sounds like us a few years ago.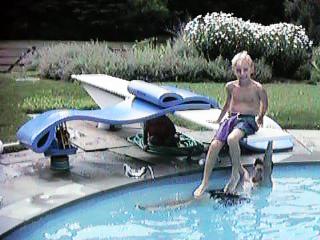 Here is Will with his fort in case of rain. He worked quite awhile on the mechanics of this fort before it stood up. Good job Will!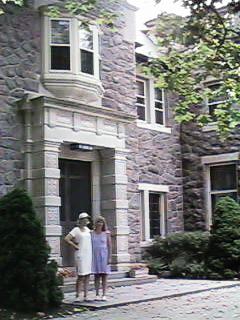 Here is Ann and Chara in front of her old East Coast home.
She gave us a great tour of home and gardens. It is very peaceful here.